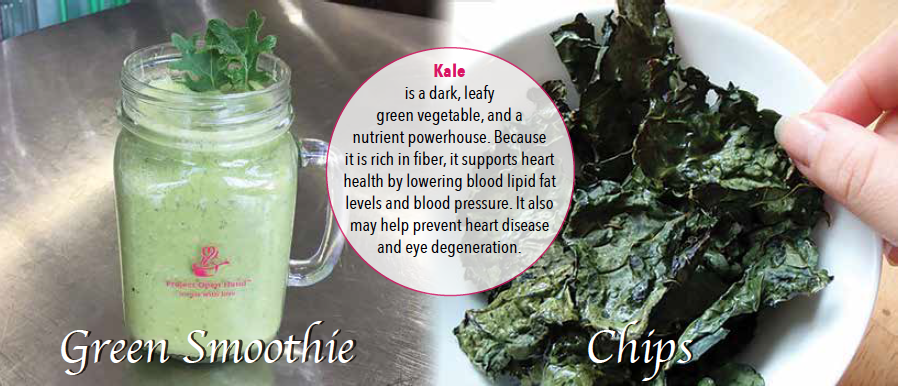 Kale is a dark, leafy green vegetable, and a nutrient powerhouse. Because it is rich in fiber, it supports heart health by lowering blood lipid fat levels and blood pressure. It also may help prevent heart disease and eye degeneration.
Kale is also a versatile vegetable that can be used in many delicoius recipes including...
Green Smoothie
Ingredients for 2 cups
1 cup plain yogurt, low fat and sugar free
2 cups Plenty Baby Kale
1 celery steam
1 cup frozen grapes or ice cubes
Instructions
Blend all ingredients for 2 or 3 minutes until you get a creamy texture. Taste it and
add natural sweetness by blending an orange. Drink it cold!
Chips
24 small Tuscan or Curly kale leaves or 5-inch-long pieces torn from large stemmed leaves, rinsed and dried well
1 tablespoon vegetable oil
2 teaspoon balsamic vinegar (or ½ teaspoon lemon juice)
2 teaspoon garlic powder
1 teaspoon onion powder
1 teaspoon Kosher salt
½ teaspoon freshly ground black pepper
¼ cup grated Parmesan cheese
Instructions: 
Preheat to 300°.
In a bowl, whisk together oil, vinegar or citrus, garlic powder, onion powder, salt, pepper. Mix well. 
In another large bowl, transfer destemmed kale leaves and toss with seasoned oil mixture, making sure leaves are well coated.
Sprinkle Parmesan cheese and toss again to coat well.    
Alternatively, brush tops of kale leaves lightly with seasoned oil. 
Arrange in a single layer on 2 large baking sheets.
Roast for 10-15 minutes, rotating sheets top to bottom halfway through for an additional 10-15 minutes or until kale is crisp and cheese is lightly golden. Kale leaves will shrink. 
Sometimes the leaves bake unevenly, so watch them carefully, removing the crisp ones as they are done and returning the others to continue baking until done.
Transfer leaves from baking sheets to a wire rack; let cool.
Serve as a snack or topping for soups or salads or store in an air-tight container for 3 days.