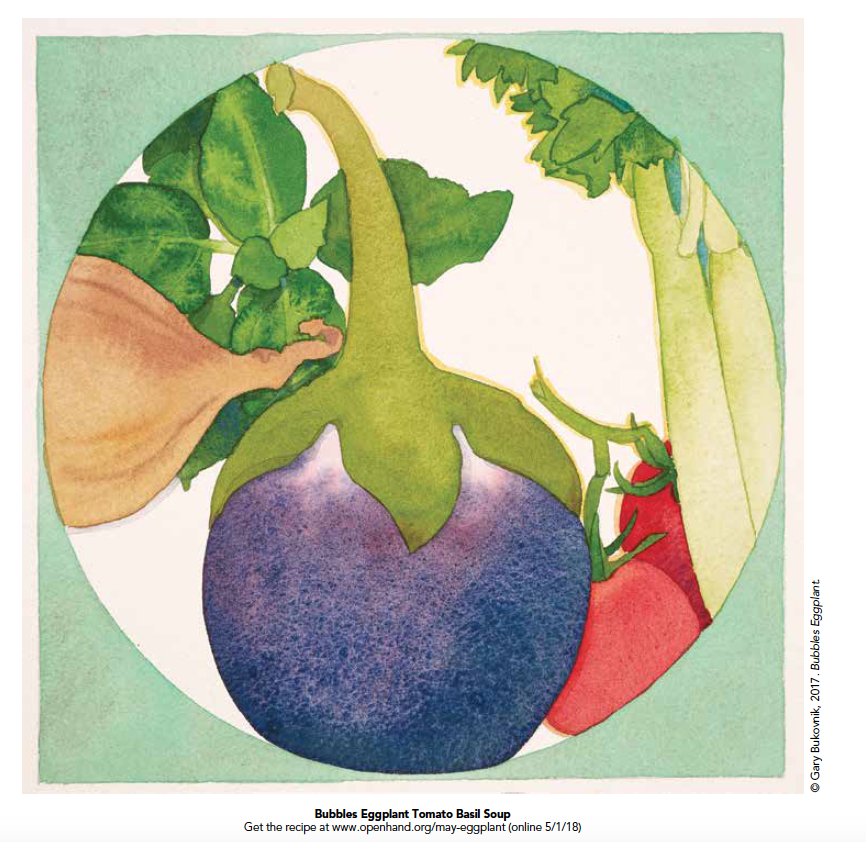 Yield: 6 servings
INGREDIENTS:
 
3 tbsp. olive oil
1/2 medium yellow onion, ½" diced
2 large eggplants, 1" diced (don't peel)
3 cloves garlic, minced
2 tbsp. Tomato paste
2 14oz. cans (low/no sodium) tomatoes (whole, diced or pureed)
1 tbsp. sugar or honey
2 tsp. salt
2 tsp. cumin
1 tsp. coriander
½ c. fresh basil, roughly chopped
DIRECTIONS:
 
Add olive oil to a 6-qt. pot on medium-high heat;  add eggplant and onions and turn to medium to let cook for 5 minutes until soft
Add garlic and tomato paste; cook for another 3 minutes
Add tomatoes with liquid, sugar or honey and dried spices; bring to a simmer
Let soup cook for approximately 15-20 minutes on low, stirring every 5 minutes; turn heat off and let soup cool for 15-20 minutes before puréeing
Add more liquid (water or stock) as needed (only ¼ c. at a time); purée soup in a blender, food processor or with an emersion blender
Finish with chopped basil.
*Use caution when puréeing hot liquids, letting the soup cool almost completely first.  Re-heat on low when serving.
*Soup may be served chunky instead of purée, depending on texture preference.