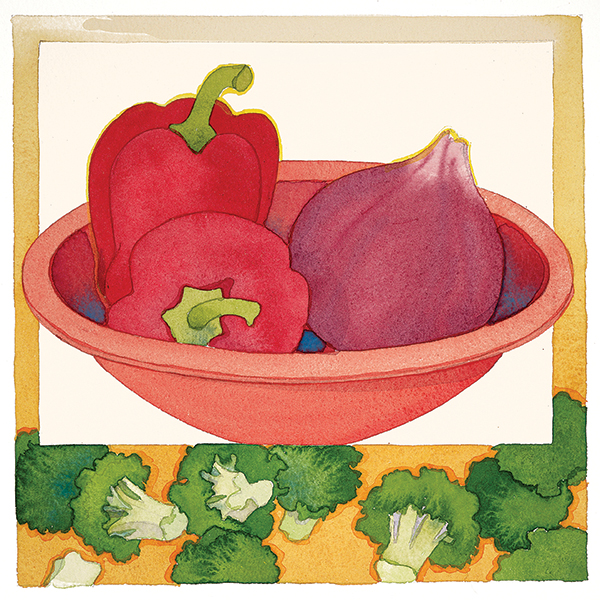 Serves 4
Ingredients:
1 ½ lb. small Broccoli Florets
½ tbsp.  Salt for blanching the broccoli
¼ cup extra virgin olive oil
2 med red peppers, halved, seeded, cut lengthwise in ¼" strips
1 med yellow pepper, halved, seeded, cut lengthwise in1/4" strips
½ red onion, julienne, into ¼" strips
2 garlic cloves, thinly sliced
1/2 tsp salt
1 tbsp. balsamic vinegar.
Instructions
Day before or a few hrs. before, Bring a medium sized pot of water to boil and add salt to the pot for blanching.
Have a medium size bowl with water and ice for shocking the broccoli.
Have a plate with a towel or paper towels to remove the excess water from the broccoli.
Add the broccoli to the boiling water.
Use a spoon to submerge all the broccoli and cook for just over a minute.
Drain broccoli from boiling water and put immediately into the ice bath.
After a few minutes remove vegetable from ice and water and put on toweled plate and reserve for later.
Heat a nonstick medium sauté pan over medium heat and add the E. V olive oil.
Add the pepper strips and julienne onion and cook over medium heat for about 6 to 8 minutes, tossing occasionally as the edges caramelize.
Add the sliced garlic and allow to color as you continue to toss the peppers.
Drizzle the balsamic over the peppers and onions, and toss as the balsamic deglazes the pan.
Add the broccoli to the pan and toss it all together as the broccoli heats up. Heat for about a minute. Season with the remaining salt.
We serve this sautéed vegetable side dish to accompany  many of our  dishes like our roasted Tilapia with sweet and sour sauce, Mongolian Beef, Garlic Beef Stew with brown/white rice, or Singapore chicken.