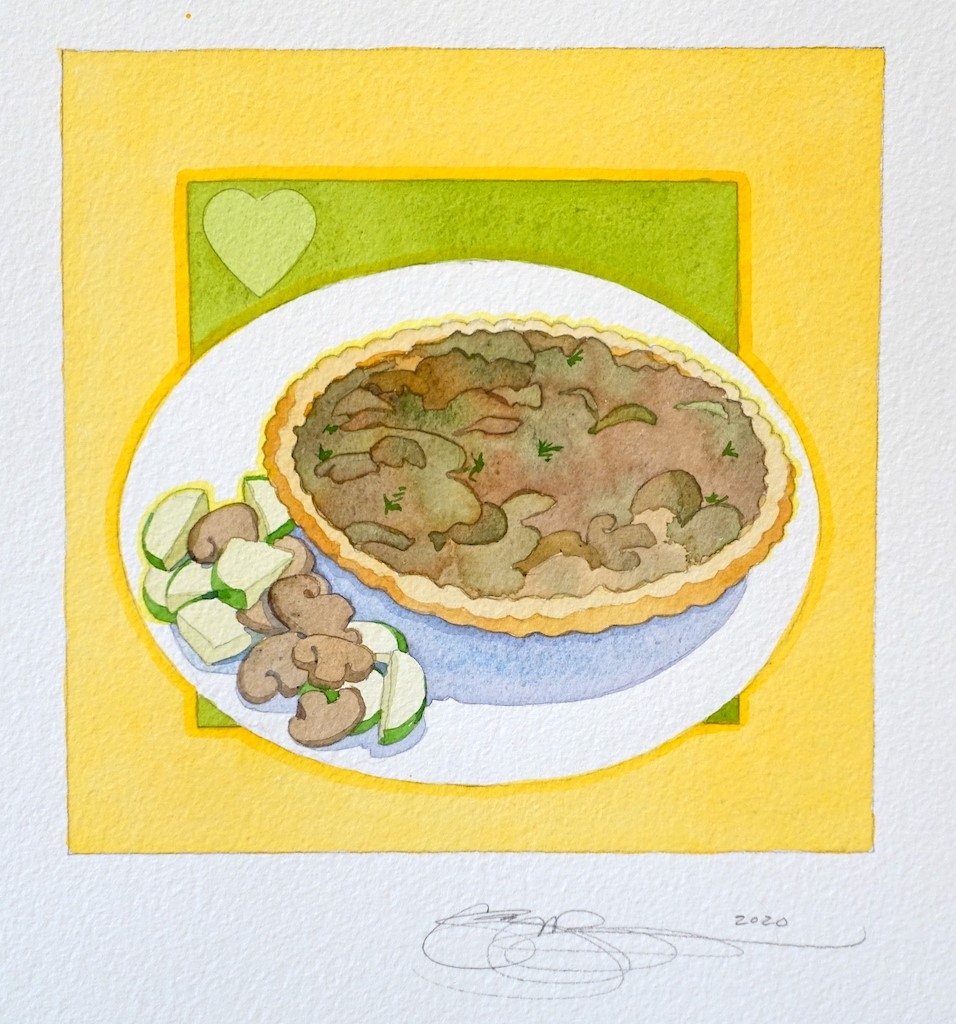 MUSHROOM-ZUCCHINI QUICHE Recipe
Ingredients
1 lb. mushrooms, fresh, sliced
1 tbsp. oil, blended
1 lb Zucchini – 1/4" quarter moons
1 Tbsp. oil, blended
8 oz. cheddar cheese - shredded
2 Tbsp. Parsley – chopped
½ cup Milk, 2% reduced Fat
1.5 cup Egg, liquid Whole
1 Pie Shell, Frozen, w/Lard, unbaked, 9" deep dish
Directions:
Pre-heat oven to 3508F.
Toss mushrooms in 1 tbsp. oil, spread on small baking sheet and roast for 15 to 20 minutes. Chill
Toss quarter moons zucchini in 1 tbsp. oil, spread on small baking tray and roast for 15 minutes. Chill.
Mix roasted mushrooms, roasted zucchini, shredded cheese and chopped Parsley in a bowl together.
Fill pastry shell with veg & cheese mixture. Spread evenly.
In a small bowl, whisk egg and milk together.
Slowly pour custard into center of veg mixture.
Place filled pie shell in center of oven and Bake for 20 minutes at 350*F.
After 20 minutes rotate pie and lower oven to 325*F and continue cooking for another 15 to 20 minutes. Quiche will puff as it cooks and start to color golden.
To test for doneness. Slide a small paring knife into the center at an angle.
When removed it should be clean of any uncooked custard mixture.
Remove and allow to sit for 15 minutes at room temperature before cutting into 4 to 6 even wedges.
Is a great dish for lunch or breakfast.
Calories 697 kcal Carbs 37.6 gm % Cal/Fat 59%
Protein 35.7 gm Fat 46.9 gm Fiber/Dtry 3.2 gm
Sodium 722 mg Calcium 510 mg Chol. 486 mg