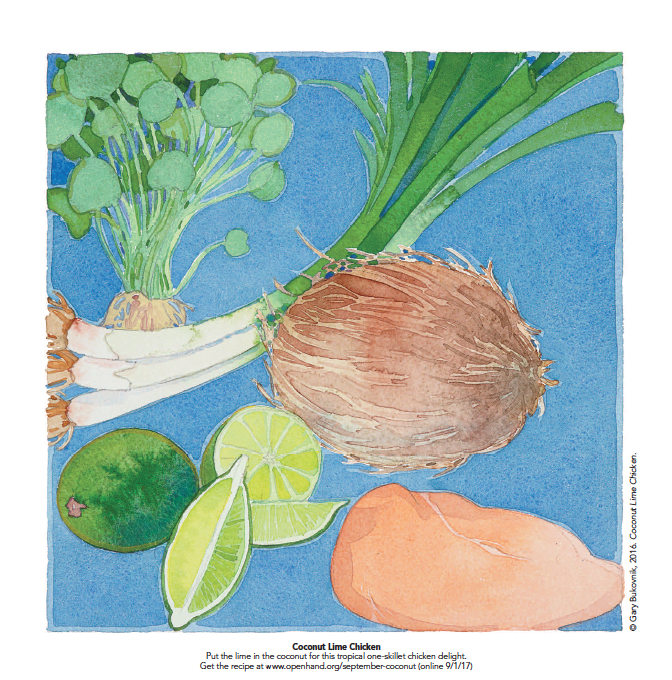 Ingredients: 
 
1 tbsp. plus 1 tsp. canola oil  
1 tbsp. hot sauce  
1 tsp. soy sauce 
1 tsp. sugar
1 lb. skinless, boneless chicken breasts, cut into 1-in. pieces  
Salt and freshly ground pepper  
 3 large scallions, thinly sliced  
3/4 lb. watercress, stems trimmed, finely chopped and reserved  
1 14-oz. can unsweetened coconut milk  
1 tbsp. fresh lime juice, plus lime wedges for serving  
3 tbsp. coarsely chopped cilantro  
Directions: 
 
In a medium bowl, combine 1 tbsp. of oil with 1 tsp. of hot sauce, soy sauce and 1/2 tsp. of sugar. Add chicken and toss to coat. Refrigerate for 1 hour or overnight.  
Heat a large nonstick skillet over moderately high heat. Add chicken, season with salt and pepper and cook, shaking the pan occasionally until browned and just cooked through, 4 to 5 minutes. Transfer chicken to plate.  
Heat remaining 1 tsp. of oil in skillet. Add scallions and watercress stems, cook until crisp-tender and lightly browned, 2 to 3 minutes. Add watercress leaves and cook, stirring until wilted, 1 to 2 minutes. Transfer watercress to the plate with the chicken.  
Add coconut milk, lime juice, remaining 2 tsp. hot sauce and 1/2 tsp. sugar to skillet. Bring to a simmer and cook until reduced by one-third, about 5 minutes. Stir chicken and watercress into the sauce, season with salt and pepper and warm through. Add the cilantro and serve immediately.