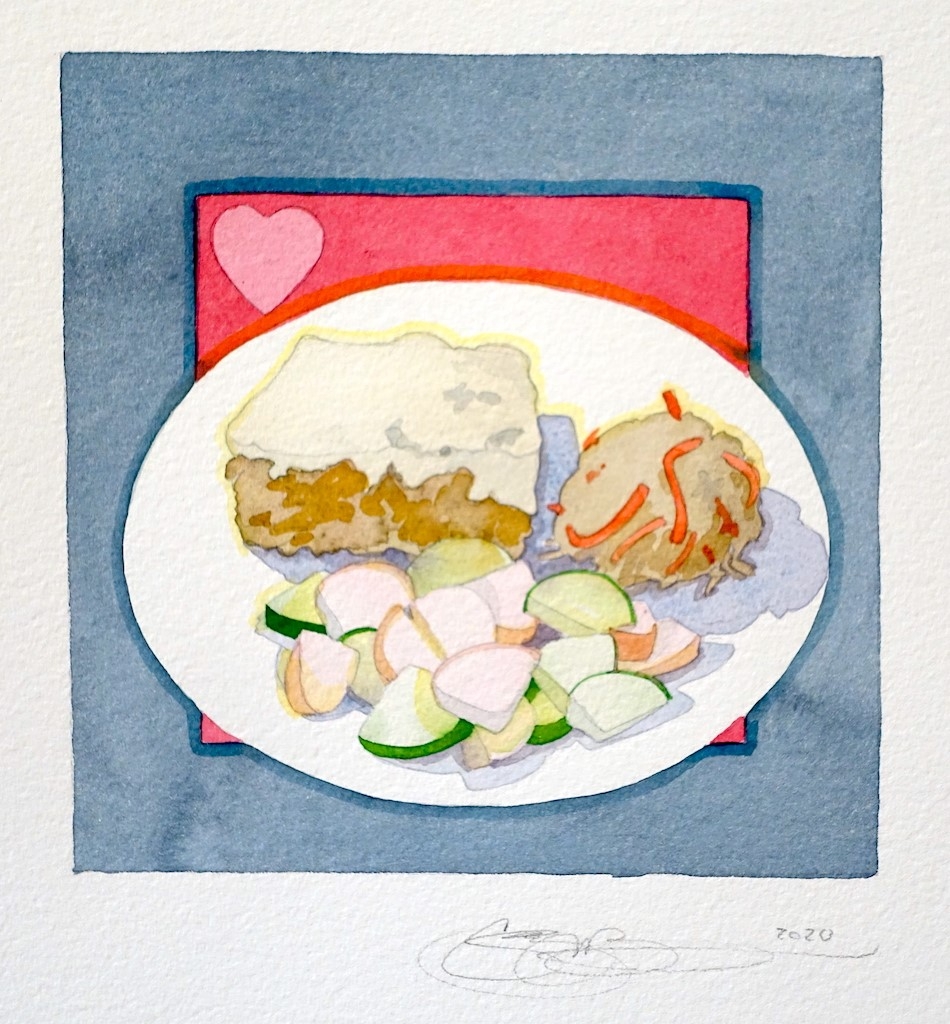 Moussaka - Serves 8
Ingredients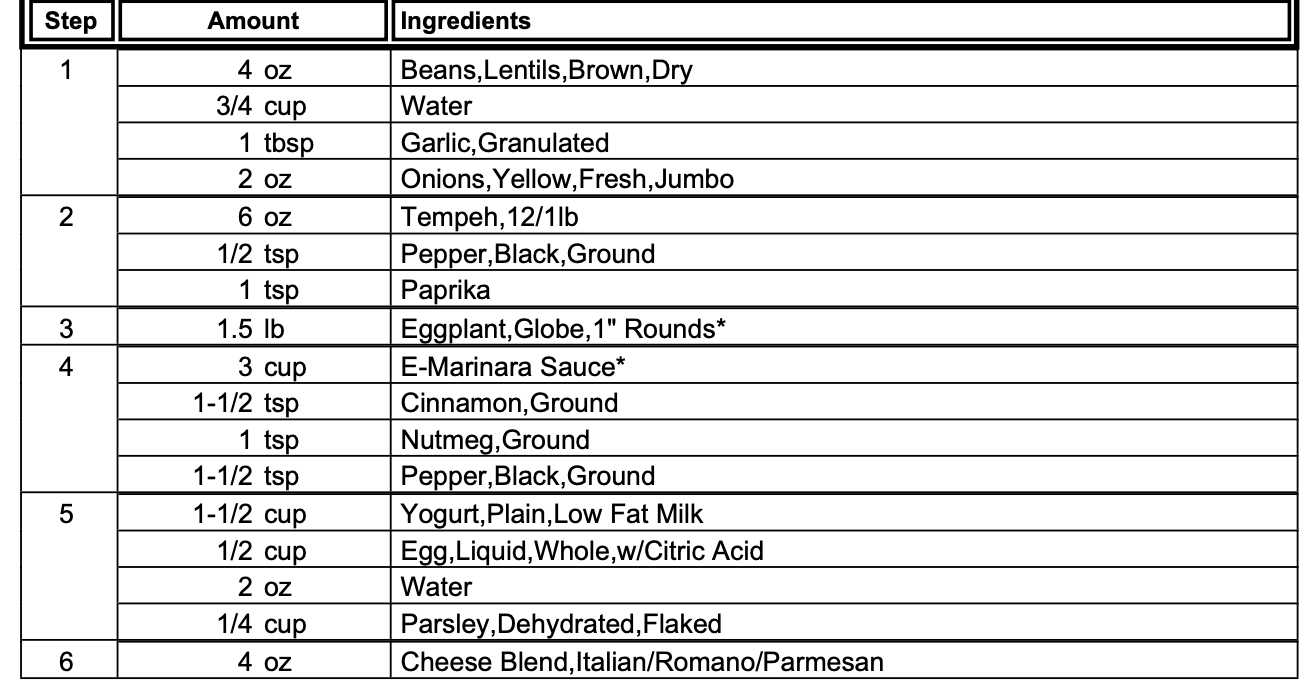 Directions 
TO COOK LENTILS: Over medium high heat, in a pot add water, dry lentils, onions and garlic powder. Bring to a boil. Lower heat to a simmer. Cook until tender, but not mushy, about 15 minutes. Add salt when lentils are tender. Cook for another 5 minutes. Drain.
1 DAY BEFORE: defrost tempeh
PREP and ROAST TEMPEH: Crumble tempeh. Toss with spices and mix well. Spread evenly in sheet pan. Roast in 400F oven for 20 minutes or until crispy.
TEMPEH-LENTIL MIXTURE: Combine tempeh and lentils and mix well.
ROAST EGGPLANT: Preheat oven to 375F. Brush oil on both sides . Arrange in a single layer on greased sheet pan. Roast for 15-20 minutes or until tender and lightly browned.
FOR SAUCE, divided Make Marinara sauce base Add spices and stir well. NOTE: Reserve 2 CUPS PER PAN for bottom coating. Add 4 cups sauce per pan to Tempeh-Lentil mixture and mix well.  
YOGURT SAUCE FOR TOPPING: Whisk together: yogurt water egg cheese (make sure to reserve for topping) parsley. Set aside.  
TO ASSEMBLE CASSEROLE - VOL. WT. PER 2" HOTEL PAN = 12.5# ; 16 PORTIONS X 12.5 FL. OZ EA Spray pans well with non-stick cooking spray.
1 TOMATO SAUCE: Spread 4 cups sauce to coat bottom of hotel pan.
2) EGGPLANT: Lay total of 1.5 lbs baked eggplant slices on top of sauce.
3) TOMATO-LENTIL-TEMPEH MIX: Weigh 5 pounds mixture, transfer to pan and spread in an even layer.
4) EGGPLANT: lay over with 1.5 lbs baked eggplant slices.
5) YOGURT SAUCE: Pour and spread on top evenly 4.5 cups of sauce
6) CHEESE TOPPING: sprinkle evenly 8 ounces cheese. TO BAKE CASSEROLE: Bake uncovered for 40 minutes or until top is golden brown. Remove from the oven and let rest for at least 10 minutes. Chill before cutting into 16 equal portions (12.5 flz each)
Nutrition
Calories 293 kcal
Carbs 31.9 gm
Protein 17.9 gm
Fat 12.3 gm %
Cal/Fat 35.7 %
Chol 89 mg
Sodium 366 mg
Fiber/Dtry 7.1 gm
Calcium 288 mg