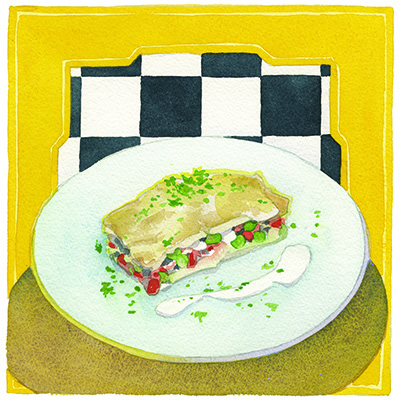 Vegetarian Tempeh Shepherd's Pie
SERVES 8 TO 10
Ingredients
1 ½  Lb. Tempeh
10 oz. peas & carrots, frozen.
3 ½ cups Bland – Mushroom & Herb Sauce
5 cups Bland – Mashed Sweet potatoes
5 oz. mozzarella cheese shredded
Instructions
Day before.
Defrost and crumble tempeh. Spread on a sprayed sheet tray and toast at 350* F.   For about 15 minutes, or until tempeh   looks golden brown and   gives off a nutty aroma. Cool.
Also make and chill Mushroom herb Sauce and Sweet mashed potatoes.
For next day's assembly.
Grease your 2" baking dish with   cooking spray.
Spread ½ of mashed potatoes onto the bottom of baking dish.
In a bowl, mix the chilled mushroom herb sauce, peas and carrots and toasted tempeh all together.
Spread mixture evenly over mashed potatoes.
Cover the top of mixture with remaining mashed potatoes.
Cover dish with parchment paper and foil and   put into   oven at 350* F. cooking for 25 to 30 minutes.
Allowing edges to caramelize.
When ready remove covers and sprinkle with mozzarella.
 Return to oven for 5 minutes to allow cheese to melt and turn golden brown.
Allow to cool and   cut with a spatula and serve as a side dish or stand alone.
The Tempeh provides about 20gms of good plant protein
346 Kcal                       522 gm Sodium            6.3 gm Fiber
42.5 gm Carbs               250 mg Calcium
20 gm protein              12.3 gm Fat