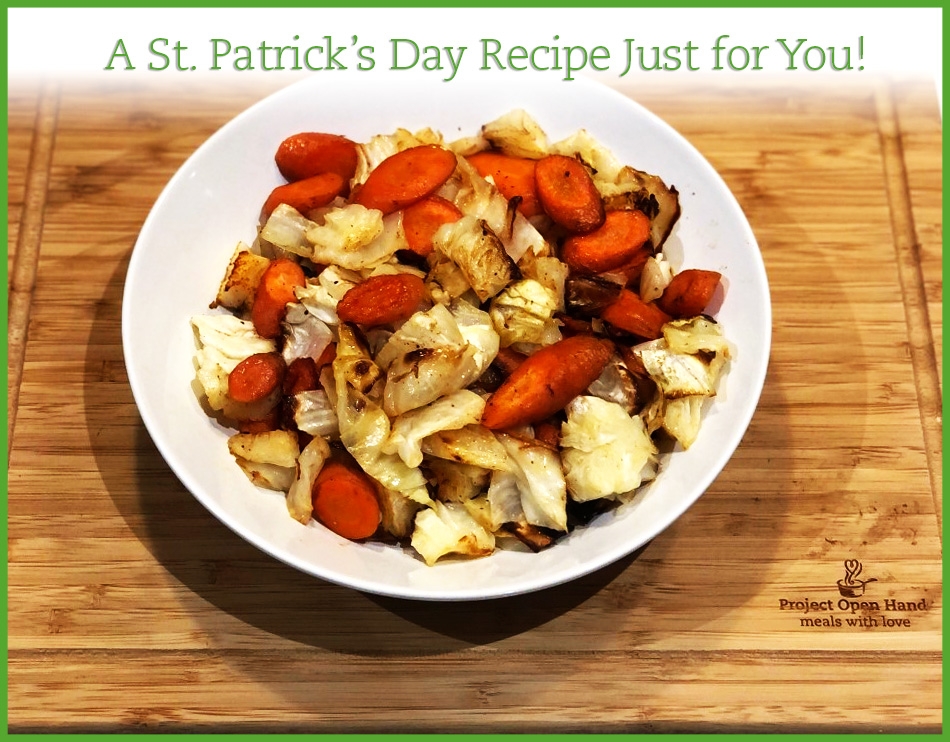 We've got a healthy twist to add to your St. Patrick's Day celebration. Include this nutritious, easy Oven-Roasted Cabbage & Carrots veggie side dish to your meal today!  
Cabbage is an excellent source of vitamin C, which is a powerful antioxidant. Carrots contain another antioxidant called beta-carotene, which is a form of vitamin A. Adding this side dish to your meal will help you increase your fiber intake, providing 3 grams of dietary fiber per ½ cup serving that will aid in good digestion.

Carrots have a natural sweetness that is enhanced with roasting, so you do not need to add a ton of seasoning for a tasty dish. If you don't have paprika, try cumin or another favorite spice.
Ingredients
1 head cabbage, green or red  
1 pound carrots  
2 tablespoons oil (canola or avocado oil, refined for high heat) 
Black pepper & salt to taste  
Paprika to taste 
Directions 
Preheat oven to 400°F.
Cut your cabbage in half and remove the tough core at the base.
Slice into wedges about an inch wide, the layers will separate  
Cut carrots into slices  
Brush a rimmed baking sheet with 1 tablespoon of oil
Arrange carrots & cabbage in a single layer on the baking sheet 
Brush or drizzle veggies with the remaining oil and sprinkle your salt, pepper, and paprika.
Place baking sheet in the oven, flip the veggies after 15 minutes to evenly cook.
Continue roasting until cabbage and carrots are tender, and lightly golden at the edges, about 25 to 30 minutes total. 
Happy St. Patrick's Day, and enjoy our recipe made with love just for you!