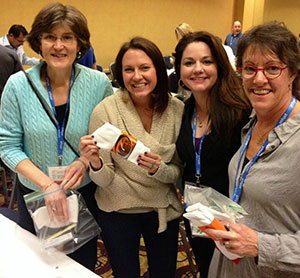 Project Open Hand collects and shares toiletries with our clients, many of whom struggle to afford basic needs. Get involved by organizing a toiletries drive at your school, workplace, church, or gym.
Many of our clients have very limited income or no income at all, and some are homeless. They struggle to afford basic necessities, so providing them with a care package of toiletries is greatly appreciated and can brighten their day.
Please drop off new, full or sample-size toiletries (list of items needed below) at the following locations:

 
Attn: Mary Beth/Client Services

Project Open Hand in San Francisco

730 Polk Street, between Eddy and Ellis

Hours: Monday – Saturday, 8:30 am to 7:30 pm
or
Project Open Hand in Oakland

1921 San Pablo Avenue at 20th Street

Hours: Monday – Friday, 10:00 am to 2:00 pm.
Questions? Contact Laura Garner at [email protected] or 415-447-2313.
Toiletry items:
Please note: All items should be new and sealed.
Shampoo
Bar Soap
Toothpaste/toothbrush, dental floss
Deodorant
Aftershave lotion
Pocket-sized kleenex
Disposible wipes
Socks