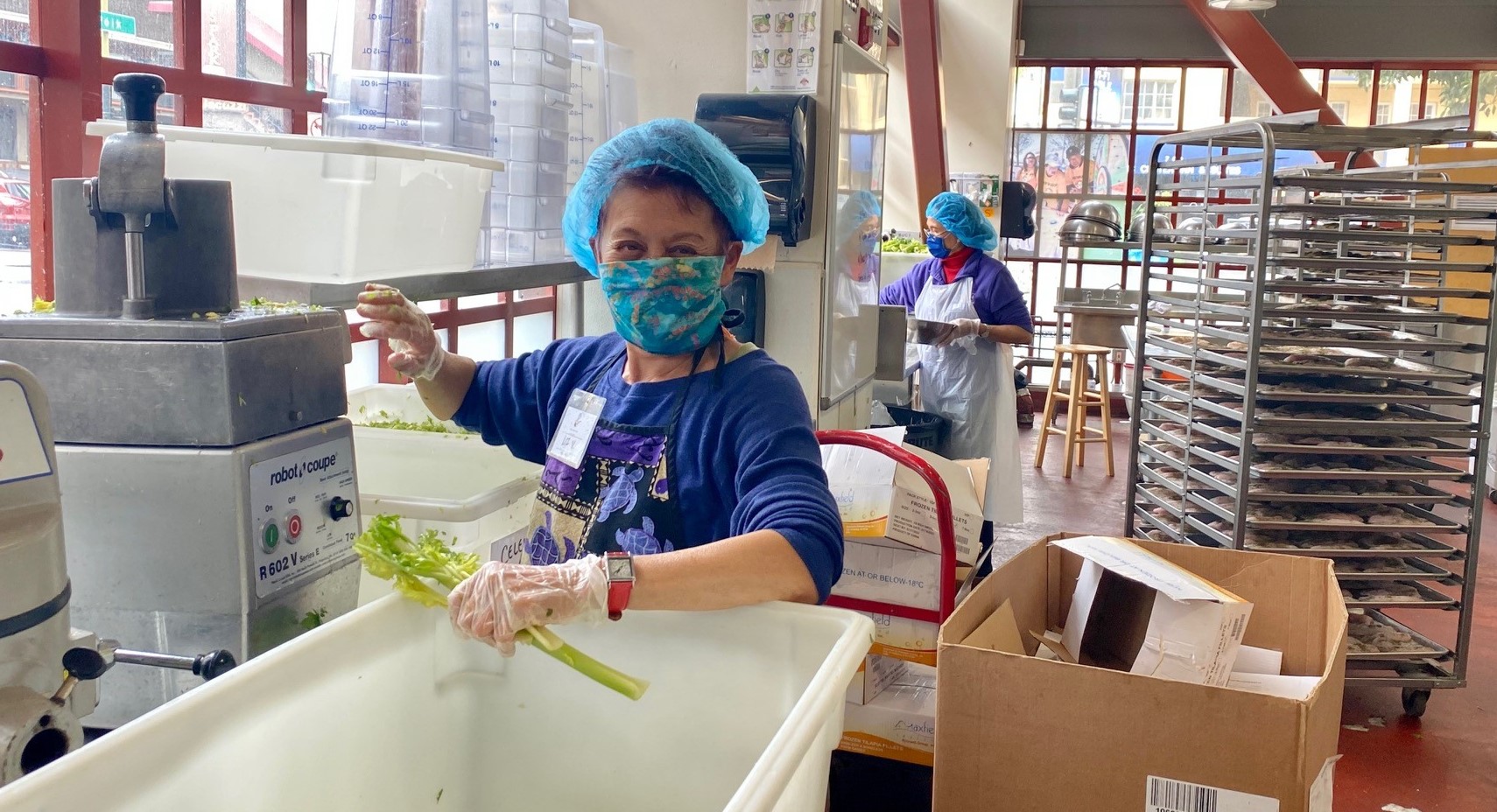 Help fill our most urgent volunteer needs in San Francisco.
As an essential services provider and public health partner, Project Open Hand continues to operate during this medical crisis and we need you more than ever to  help serve the community. One-time and recurring volunteer shifts are available.
One-Time Volunteer Shifts
Help prepare and package meals 
Tasks include packaging and labeling prepared hot meals in containers and assembling frozen-meal bags.
Help sort and assemble meals 
Volunteer assists with sorting bulk items into individual portions, sorting fresh produce, and assembling pre-packed bags.
Recurring Volunteer Shifts
We are looking for individuals and small groups who can commit to a weekly volunteer shift.  Volunteer tasks include preparing meals, assembling meal bags, and distributing meals to clients. Shift are limited and require a 3-month commitment.
To sign-up for a weekly volunteer shift, please submit this form: Volunteer Inquiry.
Recurring Shifts Available:
Kitchen

prepare meals and assemble meal bags

Grocery Center

Package dry good and distribute groceries

Meal Delivery

Deliver meals to clients walking or driving

8:00am – 11:00am

Monday - Friday

9:00am – 12:00pm 

Tuesday - Saturday

3:30pm – 5:30pm

Monday

11:30am – 2:00pm 

Monday - Friday

11:00am – 1:30pm

Tuesday - Friday

 

1:00pm – 3:00pm 

Monday - Saturday

12:30pm – 3:30pm 

Tuesday - Saturday

 

4:30pm – 6:30pm

Tuesday or Thursday

12:30pm – 4:00pm 

Tuesday - Friday

 
---
Update 7/6/20
Since the shelter in place order went into effect in March, we have reduced our volunteer numbers by 75% and put the following protocols in place:
To comply with the City and County health order, we have temporarily adjusted all volunteer shifts times. Volunteer shifts at Community Nutrition Sites (dine-in) remain canceled until further notice.
We are following strict social distancing guidelines, and each of these temporary shifts have limited space.
Volunteers must commit to at least one shift per week, for the next three months.
Meal delivery volunteers must follow our Drop and Knock Delivery Procedures.
Each volunteer must complete the Volunteer COVID-19 Screening Acknowledgement Form agreeing to answer three COVID-19 screening questions before starting their work every day that they volunteer prior to arriving for their shift.
We are asking volunteers that are at higher risk for severe illness from COVID-19 or that live/work with people that are at high risk, to stay at home until the shelter-in-space order has been lifted.
Masks or cloth face coverings are required. 
Please check our Volunteer Frequently Asked Questions During COVID-19.
---
If you are looking for a different way to help, we are accepting the following donations:
Face masks or cloth face coverings

Food donations. We accept foods from licensed or regulated food service providers (restaurants, grocers, bakeries, etc).