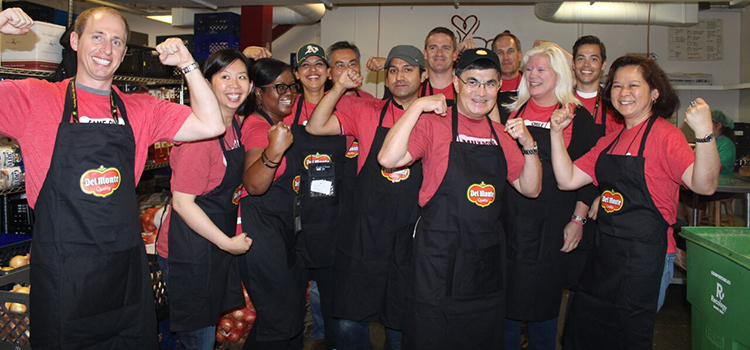 Volunteer Groups at Project Open Hand typically help prepare, assemble, package and serve 2,500 nutritious meals and nearly 200 bags of healthy groceries to our clients. Groups may work in either the Kitchen and/or the Grocery Center based on the agency's needs for the day. All group shifts include an orientation.
Shifts: Groups are scheduled on a first come first served cycle, Monday - Friday:
9:30 am – 12:00 pm and 1:00 pm – 3:30 pm
Important Information:
All volunteers must be 15 years or older and dress in close-toed shoes, shirts with sleeves, and full length pants.
Volunteers will be required to sign a waiver before a volunteer shift begins.
Location: POH San Francisco is located at 730 Polk Street, between Eddy and Ellis. Reserved parking is not available.
YOUR FIRST STEP TO VOLUNTEER AS A GROUP
Please call or email if you are interested in bringing a group of 3 - 20 people to volunteer at POH. This will ensure that we can provide adequate staffing and equipment for you and your group.
For more information please contact [email protected] or call 415-447-2348.